Alicante Tourist Info
Tourist Information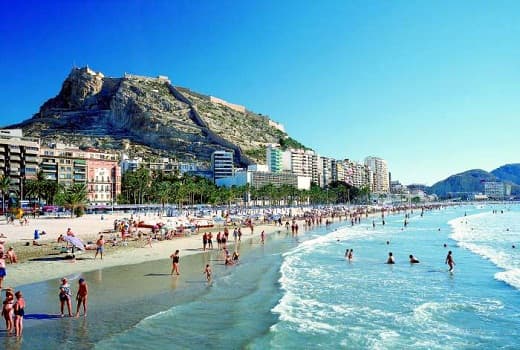 Alicante car hire Prices >>
Alicante has many tourist attractives of great value, one of those is its proximity to the sport port and the beach of El Postiguet. This is the most populated beach of the city and it surrounds the marine walk where visitors can enjoy fantastic views of Santa Barbara's Castle. In their 900 meters of longitude it offers infantile games, beach-voley nets and some special services recently incorporated like the pedagogic area for mental-disabled and an accessible point for physical handicaped.
However, not everything is beach in Alicante. Parallel to the sea, the emblematic Leveled of Alicante, almost a half kilometer walk with a ground formed by tri-colored waves composed by marble pieces. In this coastal environment tourists can enjoy the leisure of the sport port that facilitates the practice of nautical sports. And for those who enjoy with the sport of 'Shopping', they can find boutiques of complements, fashion, toys and also, bars, restaurants and pubs in the commercial centers that have been integrated inside the port, one of the places with more attractive for weekend drinks.
A word of advice…
Our car hire rates at Alicante Airport are fully inclusive including all local taxes.
What customers say…
Just to say this is great - you just saved me about £100. Many thanks
S.H