Mallorca Maps
Tourist Information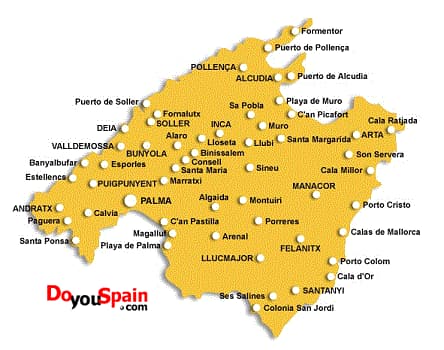 Mallorca car hire Prices >>
More than five times the size of either Minorca or Ibiza, Majorca is shaped roughly like a saddle. The Sierra de Tramuntana, a tough mountain range soaring to nearly 5,000 ft, runs the length of its northwest coast, and a ridge of hills borders the southeast shores; between the two lies great, flat plain that in early spring becomes a sea of almond blossoms, 'the snow of Majorca'.
Having acquired a reputation as a cheap getaway, especially among Britons and Germans, Majorca gets more than 10 million visitors per year, but the package-tour industry is confined to a narrow coastal strip. Elsewhere, Majorca has relatively undiscovered charms, particularly in the mountains of the northwest and in the interior: caves, bird sanctuaries, abandoned monasteries, tiny museums, and village markets form a good mixture of natural and man-made sights.
A word of advice…
Our Mallorca Airport car hire prices are all inclusive with no hidden costs. Do not take chances!
What customers say…
Just to say that the car rental company on your web site was excellent and they even upgraded our car. It was fantastic value and the service at Mallorca Airport was very friendly and professional.
P.C